Golf Quad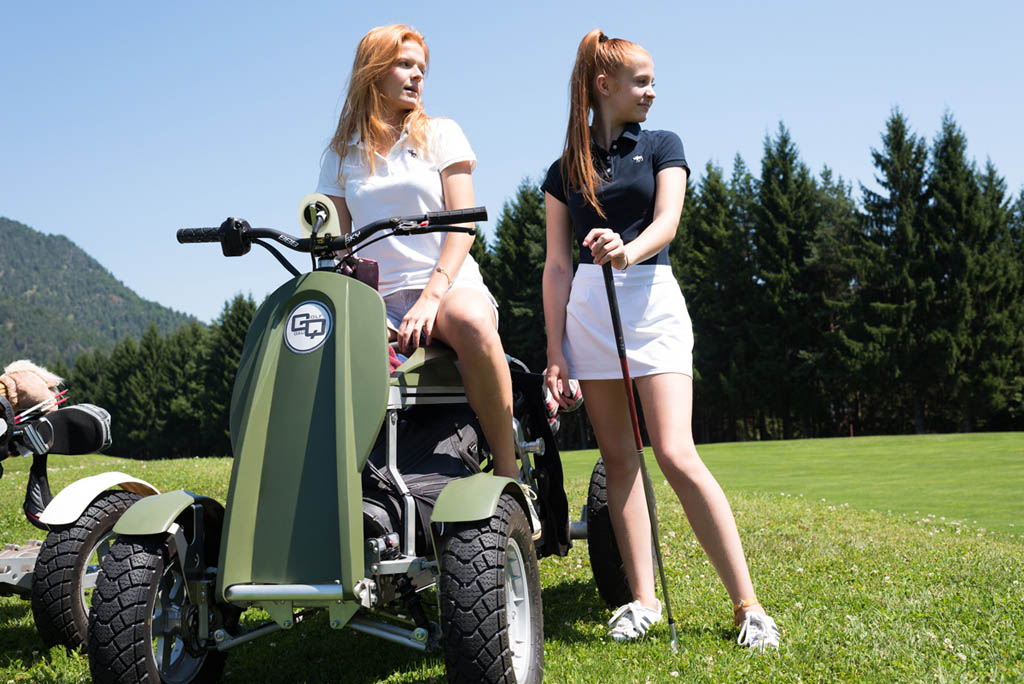 The single-seater alternative
Golf Quad is an innovative, environment-friendly electrical vehicle that can be used anywhere. It is endowed with unprecedented characteristics: it can be folded and carried in any type of car, allowing its user to go play on any golf course, in his/her own country club or elsewhere; or, why not, even on vacation.
Golf Quad is light-weight, which makes it compatible with the fairway; it does not need to stay on the rough or on the roads and trails, where traditional golf carts are obliged to transit. Its battery is small, and can be easily removed for charging, in any electrical outlet.
It is a unique, fun vehicle; it is single-seated and is driven astride the golf bag, which does not get in the player's way during the game because it becomes one with Golf Quad.
It is a new "concept," the new caddie for every golf player. You will feel simultaneously free and concentrated, while playing every hole and every swing, as Golf Quad's practical storage compartment keeps readily available to you tees, balls, and anything else you might need during your round.
Golf Quad is the dream of all golf players; but do not take our word for it; try it and see for yourself.
Enjoyable
Golf Quad guarantees complete freedom and time to play golf with great concentration and without distractions. It is suitable for golfers of all ages and experience.
The safety of Golf Quad is guaranteed by its accurate, customized engineering. It is secure because it is fully tested and certified, reliable because its construction is environmentally conscious.
But you will discover that it is a lot of fun too!
Technological
Golf Quad, definitely made in Italy, will win you over because it is simple to drive and park.
In the optional full equipped version it can be hung vertically on special tracks.
Its lithium battery is light and removable, like the battery of an electric golf trolley: it can be removed and be charged anywhere using any electrical socket.
Pratical
Golf Quad is a light, single-seat, four-wheeled, foldable, easy to carry vehicle.
The innovative position astride the bag makes it unique on golf courses.
When folded, it can be loaded in the trunk of a medium-sized car.
It can be stored folded vertically (4 folded Golf Quads take up the space of a golf cart).